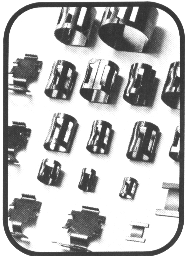 offers a variety of protective steel finishes, each designed to safeguard your springs and fasteners against rust and corrosion.
From the descriptions below, choose the finish that provides the level of protection that's best for your application.





The Oiled as Tempered finish provides a basic level of protection against rust and corrosion. As the "default" finish for virtually all of Lectra's springs and fasteners, the Oiled as Tempered finish is suitable for use in applications where there will be little or no exposure to wet or corrosive environments. Springs with this finish have a pleasing "Gun Metal Blue" appearance, and are commonly found in home entertainment and automobile dashboard applications.

The Zinc Phosphate/Oil finish protects our steel springs and fasteners against rust and corrosion more than 50 times longer than the standard Oiled as Tempered finish, as determined by our ongoing ASTM B117 Salt Fog environmental tests. Used extensively in laundry, kitchen, and automotive applications, this finish gives the parts a distinctive flat-black appearance, and is the best choice wherever moderate exposure to moisture and/or corrosive atmosphere is anticipated.

Lectra's Painted finish is your best bet for situations where environmental extremes are likely to be encountered, such as outdoor and/or marine applications. Though not available on most of our smaller knob springs, this finish provides excellent rust and corrosion protection for our larger "U"-Nuts and other fasteners, and is available in your choice of Yellow, Olive (green), and Black.