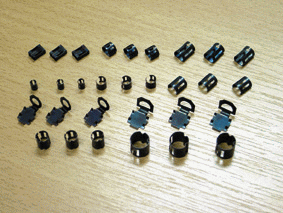 With more than a half-century of experience, Lectra Products Company is clearly the preferred source for knob fasteners and other steel retainer springs used by automotive, electronic, and home appliance manufacturers.

Our exclusive designs include Compression Rings, D-shaped retainer springs, U-nuts, J-nuts, flat springs and special locking knob fasteners. All are designed to permit simplified molding of plastic knob cavities and other components, and to facilitate the easy, rapid and accurate assembly of finished products.

Lectra's efficient manufacturing methods and rigid quality controls produce uniform parts in high volumes, while our careful inventory management ensures on-time delivery of fasteners in any quantities required. Lectra can meet the tightest production scheduling needs of today's demanding JIT ("Just In Time") programs.

Our quality system conforms to the ISO9001:2008 quality standard, including the auto industry's stringent ISO/TS16949 quality requirements.

Detailed information and engineering assistance are immediately available on request.


the best fastener for your application from our catalog.



6355 Joyce Drive
Arvada, Colorado 80403
Voice:   303-424-4449
Fax:      303-420-1840
Email:   sales@lectraproducts.com
Several

are available to help prevent rust and corrosion. Pick the one that's best for you.




us for more information about our products, or consult with our Chief Engineer for personalized assistance with your application.